WHO WE ARE
Elevating and Empowering Women
"It's an extraordinary opportunity to connect with successful women from around the world, but also in our backyard, to create lifelong friendships with leaders in your state, in our country and around the world. For me, the learning opportunities the Forum has afforded are priceless." Diane Harrison Ogawa, former IWF-NM President
International Women's Forum – New Mexico celebrates women by advancing their leadership and developing networks for professional women to succeed and learn from each other. We create connections between exceptional women leaders from diverse backgrounds and professions, providing a framework for them to mentor and support each other and exchange knowledge and ideas. We are dedicated to elevating and empowering women.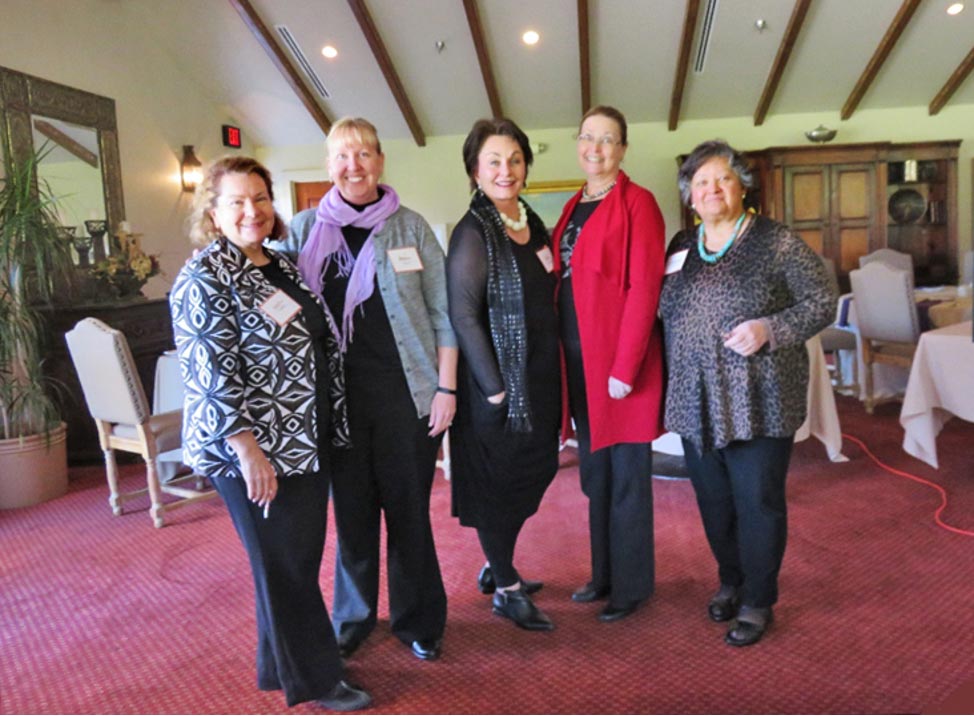 Leaders of the Board of Directors, from left, former President Celia Foy Castillo, former President Diane Harrison Ogawa, Kyla Thompson, President Yolanda Jones King, Ph.D., and retired US District Judge M. Christina Armijo. Photo by Nancy Bartlit
Since our founding in 1988, the Forum has provided a safe space for women to share the challenges of leadership with peers who understand what they are striving for and the obstacles they face. Our primary goal is building leadership skills and fostering opportunities to lead among our members and for future generations of women. Members enrich each other's lives, and many lifelong friendships are formed as they discuss the complexities of their positions and mentor each other through their own experience. We cheer each other's victories and stand by each other in times of adversity.
Our members represent an exciting and wide range of professional pursuits — CEO's directing Fortune 500 companies; musicians conducting symphonies; entrepreneurs founding new companies; ranchers managing vast cattle operations; scientists directing cutting edge medical research, institutions and critical healthcare missions; city officials leading policies and communities; hoteliers running four star properties and educators promoting school innovation. We serve on the highest judicial courts, preside over universities, promote peace, direct non-profits, author books and record or make history.
Despite full-time and often overtime commitment to their careers, our members are active within their communities. The serve on boards and as university regents, volunteer their time and donate to organizations they support.
We celebrate and honor women's accomplishments, both past and present, working to bring greater recognition to their achievements through projects like the New Mexico Historic Women Marker Initiative, and by highlighting our members' accomplishments through oral histories and featuring their expertise at networking events.
One of the most meaningful aspects of membership is discussing the challenges and rewards of leadership with our peers. "It's lonely at the top" takes on a whole new level of meaning for women CEOs, business owners, elected officials and others in positions of influence. The Forum is a place where women influencers can feel nurtured and find a sense of connection that can be difficult to come by within professional milieus. It is a safe place to go to learn, to share and to be vulnerable.
Our members are generous with their time and knowledge. Members seeking advice know they can contact women who are experts in their fields, both locally and nationally, and the door will be open.
Forum members are open with each other, curious about what is going on in our state, our country and the world and are always looking around the next corner for opportunities. One member called IWF-NM "one of the least frivolous groups." Discussions on business, social, cultural and personal issues are honest and straightforward. The atmosphere of openness, sincerity and mutual support creates a camaraderie that often develops into deep and lifelong friendships.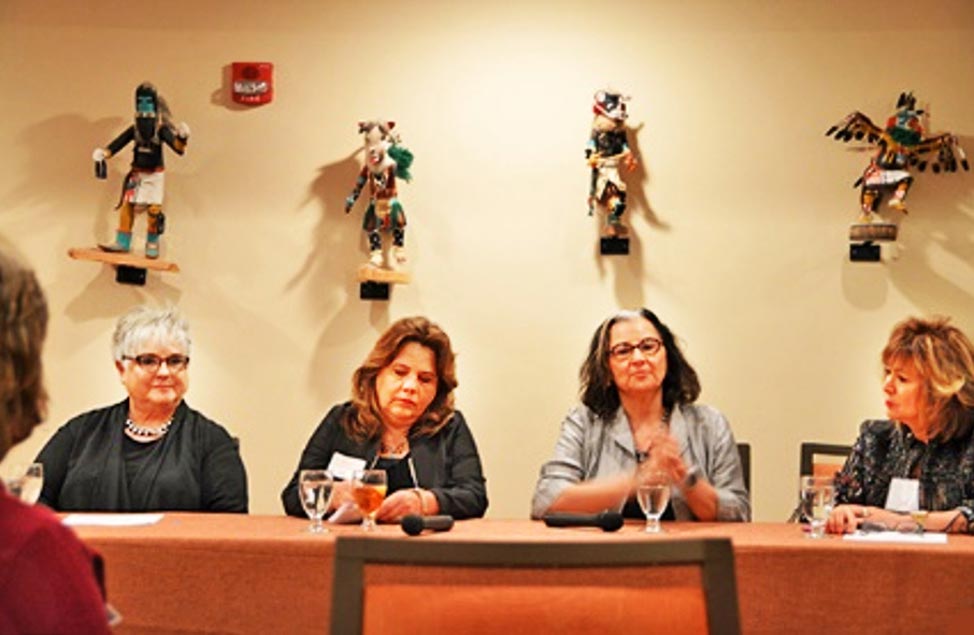 Annual Legislative Luncheon with New Mexico legislators, from left, Sen. Gay Kernan, Rep. Patricia Lundstrom and Sen. Antoinette Sedillo Lopez with IWF-NM member and moderator Barbara Damron. Photo by Carol A. Clark
"One of the things that's beautiful about a community of women is the degree to which when things are joyful and glorious and worthy of celebration, women rally around each other. And, conversely, in times of sorrow and challenge, the way that this network of women comes around each other is really special and powerful." Diane Harrison Ogawa, past IWF-NM President
The Forum's diversity is one of its strengths, providing opportunities to interact with women from a wide range of backgrounds, professions and viewpoints. Many lifelong friendships have grown between women who would probably not have met within the normal course of their lives.
"I've met people from really big cities, from affluent backgrounds. I've met people who fought for every penny and every good thing that came their way. There is just a huge variety of women in the Forum, but they're all open and willing to be a friend to anyone else in the Forum." Carol Robertson Lopez, former IWF-NM President
Our affiliation with the International Women's Forum (IWF) expands members' opportunities worldwide. With more than 7,000 diverse and accomplished women from 33 nations on six continents, IWF members have access to a wealth of knowledge and expertise from some of the world's undisputed leaders. Opportunities for engagement range from national and international conferences to Dine Arounds in each other's homes. We learn about the world and we learn about each other. We support the common mission of advancing women's leadership across careers, cultures and continents.
Although membership in IWF-NM is by invitation only, our commitment to empowering women extends to all women. Forum members support each other, and in supporting each other they support women as a whole in New Mexico.