INTERNATIONAL WOMEN'S FORUM – NEW MEXICO
Women Celebrating Women!
"We know that we're able to achieve things because of being women leaders, not in spite of being women leaders." Carol Robertson Lopez, former IWF-NM President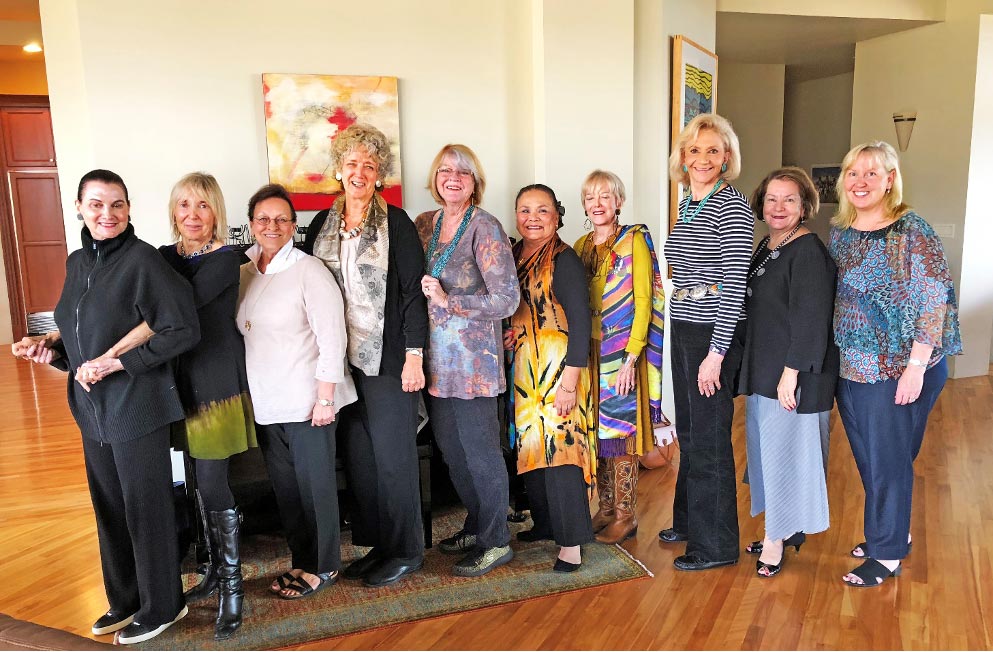 Past IWF-NM presidents from left, Linda Cohen, Pat French, Beverly Duran, Betty Downes, Ruth Frazier, Maria Estela Lopez De Rios, Rebecca Wurzburger, Carol Robertson Lopez, Celia Foy Castillo and Diane Ogawa. Courtesy/IWF-NM
New Mexico has always attracted strong women leaders. Most pre-contact Puebloan cultures were matriarchal (many still are) and all honor their women as culture-bearers. Thousands of Hispanic women made the arduous journey up the 1,590-mile Camino Real to start a new life, many as heads-of-households. Women ranging from settlers to the Sisters of Loretto and Sisters of Charity braved the hardships of the Santa Fe Trail to make their lives here, establishing schools, hospitals and homesteads. Apache warrior Lozen fought alongside her brother Victorio, Catthay Williams served as a Buffalo soldier in the U.S. Army and three New Mexican women died in service during the Iraq War. Georgia O'Keeffe's evocative landscapes and arts patron Mabel Dodge Luhan's genius for drawing talented people to her Taos home amplified New Mexico's reputation as a creative vortex.
International Women's Forum – New Mexico (IWF-NM) celebrates the women who have shaped our state's history and those impacting our present and our future. We provide opportunities for exceptional women leaders in every field to network with their peers, build their leadership skills and mentor and learn from each other. Our driving goal is to elevate and empower women.
Although New Mexican women have traditionally enjoyed greater autonomy than women in many parts of the country, they have still had to overcome the obstacles of gender bias and discrimination. IWF-NM was formed in 1989 to support women at the highest levels of their professions, many of them the first to "break the glass ceiling" to hold their positions. The founders recognized that women in the highest positions of leadership needed a peer group of those who can understand the challenges they face and nurture their growth as leaders, something men have always found through social activities that often excluded women. IWF-NM provides that support through networking with peers from diverse backgrounds and careers and fostering opportunities for friendship, support and exchange of ideas.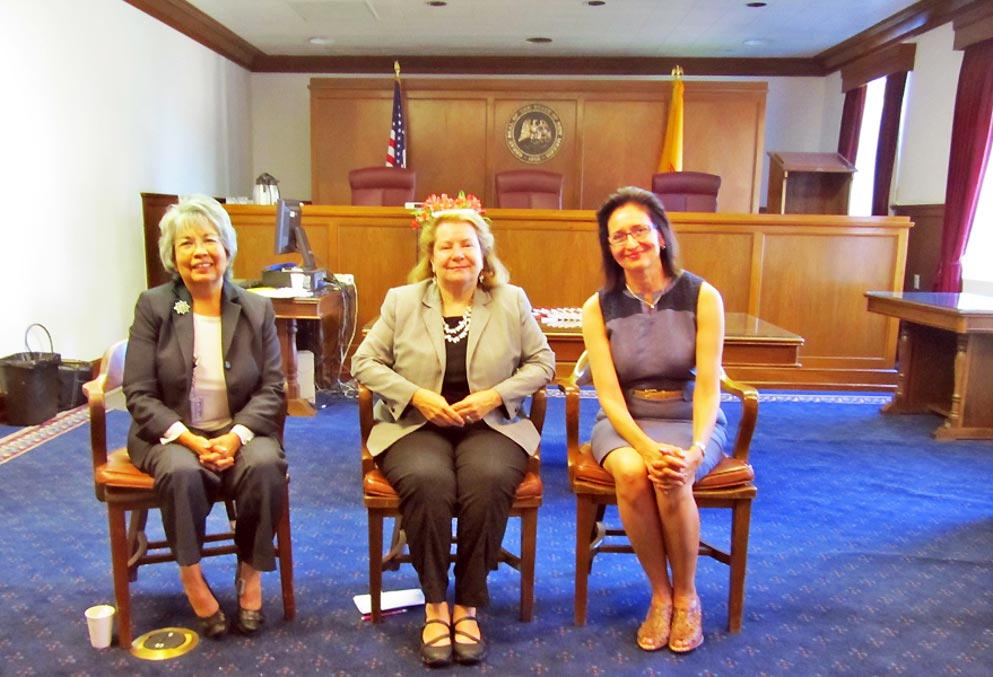 IWF-NM members from left, Supreme Court Justice Petra Maes, Supreme Court of Appeals Judge Celia Foy Castillo and Supreme Court Justice Barbara Vigil discuss the judicial branch during a meeting in the US Supreme Court of Appeals chamber. Photo by Nancy Bartlit
IWF-NM's mission includes cultivating the leaders of tomorrow, both young women moving up the leadership ladder and, through the Leadership, Empowerment and Advocacy Program (LEAP), girls just learning to find their place in the world. We honor the women who have shaped New Mexico through the New Mexico Historic Women Marker Initiative.
Our affiliation with the International Women's Forum (IWF) expands members' opportunities worldwide. With more than 7,000 diverse and accomplished women from 33 nations on six continents, IWF members have access to a wealth of knowledge and expertise from some of the world's undisputed leaders. Opportunities for engagement range from national and international conferences to Dine Arounds in each other's homes. We learn about the world and we learn about each other. We support the common mission of advancing women's leadership across careers, cultures and continents.
Membership in the International Women's Forum – New Mexico is by invitation only, extended to women from diverse backgrounds who are preeminent in their fields, recognized for their strengths and commitment to their communities. For more information on International Women's Forum – New Mexico please contact us at .
What We Believe Drives What We Do
We believe that the intractable challenges we face can only be solved if women attain their equal place and status – if women share their diverse perspectives, contribute different styles of leadership and present new solutions only they can develop.
We believe the potential for women is unlimited and opportunities should be as well.
We believe that our power lies in our unity and we celebrate each other's success.
We believe in equal pay for equal work.
We believe in women inspiring women and helping women.
We revere the women who blazed trails before us and revel in those who come after.
We believe our diversity is our strength.
We connect and cultivate long-lasting friendships – we support each other in an environment built upon trust.
We believe in transferring knowledge and momentum to the leaders of tomorrow to improve our world – to energize, demand and accelerate the imperative of change.
We believe an investment in women is an investment in the future. We elevate the next generation today to become leaders tomorrow.
COVID-19 Update

Like all organizations, we have had to adapt to the threat of the COVID-19 pandemic by going virtual with our networking. We look forward to the time when the activities featured here can resume. Watch this space for updates.
Content writing and website consultation provided by Arin McKenna. Banner photo by IWF Member-Nancy Bartlit.