THE LEAP FUND
Creating Pathways for Young Women to Succeed
"Through the LEAP fund, we partner with other entities that provide experiences for young women to become more confident and become more aware of the world and their place in it." Celia Foy Castillo, former IWF-NM President
In 2002, International Women's Forum - New Mexico initiated the Leadership, Empowerment and Advocacy Program (LEAP) to honor nonprofit organizations that support women with project funding. Early grantees included WESST, a home for entrepreneurs created by women for women, Southwest Creations Collaborative, a sewing and handwork project committed to alleviating poverty by providing living wage employment for women from low-income communities, and the New Mexico Teen Pregnancy Coalition.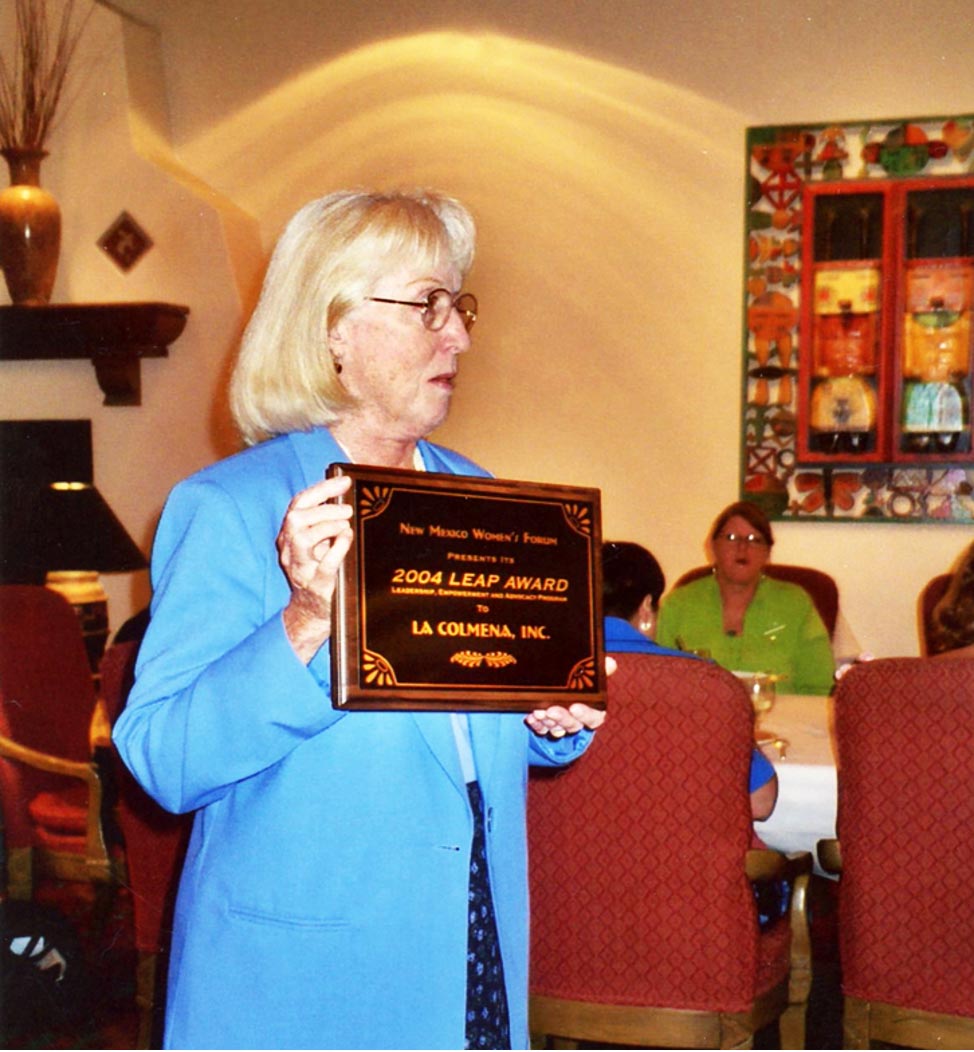 IWF-NM then President Lynn Behnfield Thomas holds up the LEAP award plaque before awarding it to the recipient La Colmena. Photo by Nancy Bartlit
Although our members were encouraged to visit grantee organizations and provide mentorship, that element was solidified under Diane Harrison Ogawa's leadership in 2018. Harrison Ogawa expanded LEAP's primary focus as a grant-making program to one in which members use their skills, connections and resources to deeply invest in an organization and help build capacity. Members were asked how they wanted to target that investment and the response was, "creating pathways for young women to succeed."
With $20,000 from a successful fundraiser to work with, we issued a Request for Proposals. The first two-year grant of $5,000 per year was awarded to Girl Scouts of New Mexico Trails to support their work engaging girls in STEM (science, technology, engineering and math).
To achieve our goal of creating connections and assisting capacity-building, IWF-NM members volunteered as mentors and met periodically with Girl Scouts' leadership to discuss issues they were facing. Girl Scouts fulfilled their community service requirements by assisting with an international event hosted by IWF-NM, where they were able to meet and interact with women leaders from around the world. The multifaceted approach helped educate IWF-NM members about the issues facing girls today and how organizations and communities of women can support girls to achieve better outcomes.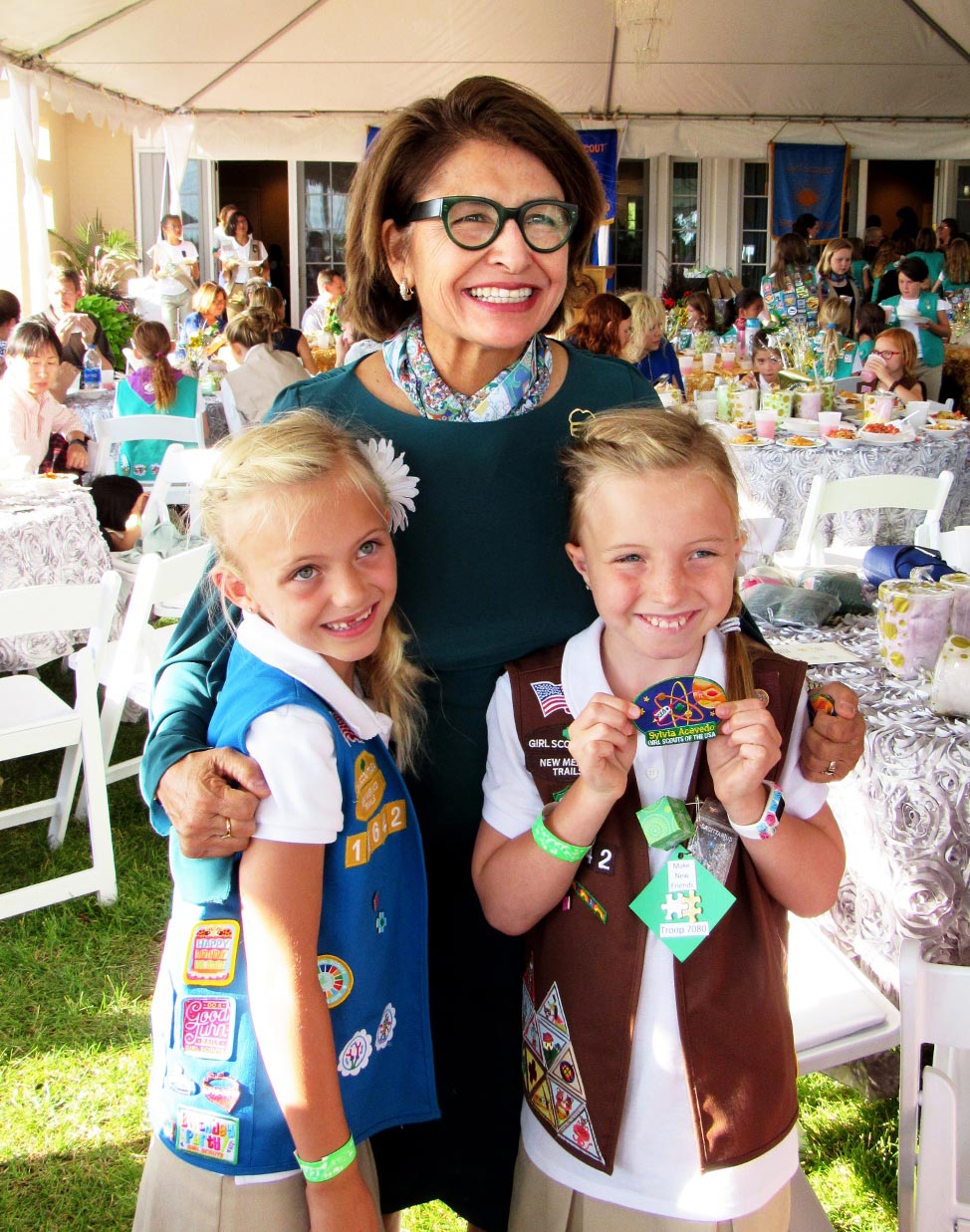 Girl Scouts CEO Sylvia Acevedo with Girl Scouts and their patch. Courtesy/IWF-NM
Girl Scouts CEO Sylvia Acevedo, a former NASA rocket scientist, was invited to speak at a 2019 conference. Acevedo shared her experiences of growing up poor in Las Cruces, N.M., and how Girls Scouts gave her the confidence to pursue her dreams, a living illustration of what happens when you invest in girls and create pathways for them to succeed.
LEAP Helps New Mexico Women
2002
New Mexico Women's Summit – $1,000
People Living Through Cancer – $1,000
WESST Corp. LEAP Grants – $1,000
2003
National Museum Of Women In the Arts – $1,800
2004
La Colmena – $2,500
2006
Keshet, Inc. – $3,000
2007
Southwest Creations Collaborative – $3,000
2008
NM Women's Foundation – $3,000
2009
New Mexico Teen Pregnancy Coalition – $3,000
2010
Tewa Women United – $3,000
2011
Move The Mountain – $3,500
Move the Mountain is a program that helps families get out of poverty, located in the south valley of Albuquerque. In 2012 they changed their name to Circles.
2012
Circles – $3,000
Circles gathers people who are motivated to move out of poverty and matches them with middle-income and high-income volunteers (Allies) who mentor, support and encourage them on their journey through training and weekly meetings while building life-long friendships.
2013
Circles – $2,500
2014
Creativity for Peace – $2,500
Creativity for Peace (now called "Tomorrow's Women") is a collaborative leadership program for young women whose lives are enmeshed in conflict. The mission is to break down barriers of anger and prejudice, encourage friendships and inspire action that promotes peace. LEAP funding was used to support a workshop with Youth Media and the salary of the Youth Coordinator to provide on-going mentoring. The grant furnished more than 10 percent of the budget for Transforming Conflict: Young Women's Leadership for Social Change. The program engaged a diverse group of more than 24 female students from seven local high schools in a 2-day workshop conducted by Creativity for Peace Young Leaders, to explore the role of conflict in their lives and how it can be transformed into a catalyst for personal growth and social change.
2015
Creativity for Peace (now called "Tomorrow's Women") – $2,500
2016
No award due to 501c3 status/considerations.
2017
Program review year to determine a new direction.
2018
Girl Scouts of NM Trails, Inc. – $5,000
Girl Scouts is the premier leadership organization dedicated solely to girl empowerment. For more than 100 years Girls Scouts has been diligently pursuing its mission to build girls of courage, confidence and character, who make the world a better place. Girl Scouts of New Mexico Trails (GSNMT), an accredited organization of Girl Scouts U.S.A., provides program services to about 3,400 girls in 23 counties across 71,500 square miles in Central and Northern New Mexico. Funded Project: The GSNMT STEM program delivers wide-ranging opportunities for girls to discover and explore STEM concepts. Initiative goals are 1) expose girls to STEM subjects, careers and professionals; 2) increase girls' interest in STEM-related subjects; 3) increase girls' confidence in STEM-related abilities; and 4) provide the means for girls to develop important STEM-related skills. The program strives to capture girls' interest in STEM early in the educational pipeline and progressively build their interest/skills through relevant/engaging programming.
2019
Girl Scouts of NM Trails, Inc. – $5,000

2020
No award due to Covid-19 restrictions on organization services