NM HISTORIC WOMEN MARKER INITIATIVE
She Who Shaped New Mexico
"I think that by celebrating women of the past, we continue to honor women of the future." Ruth Frazier, former IWF-NM President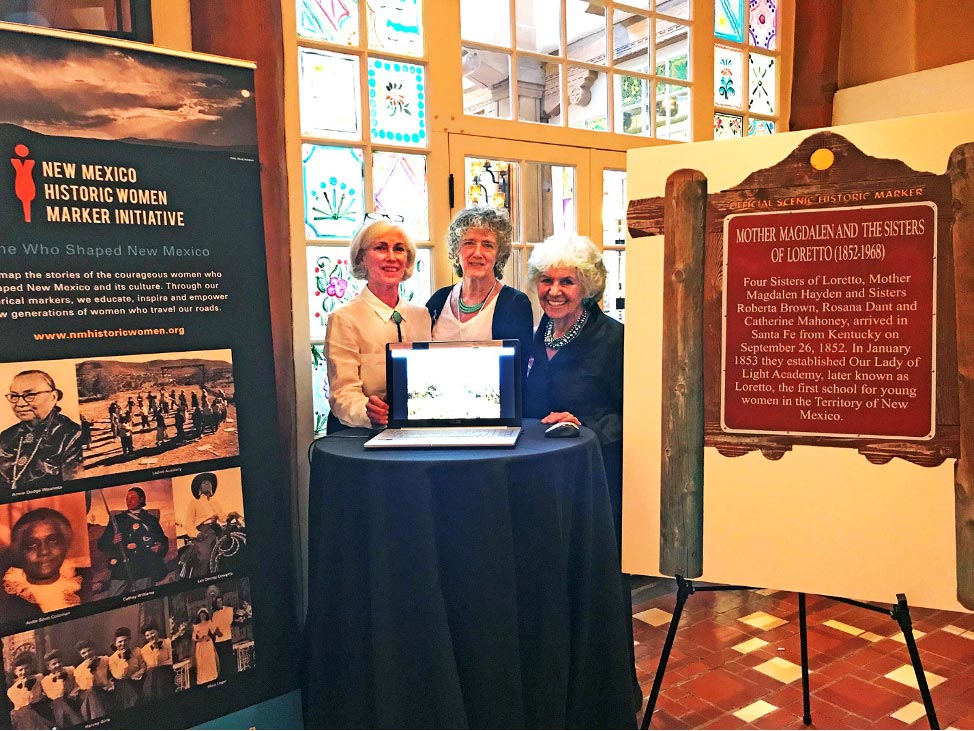 IWF-NM members from left, Paula Tackett, Betty Downes and Karen Abraham. Courtesy/IWF-NM
IWF-NM's New Mexico Historic Women Marker Initiative celebrates women of courage, vision and fortitude who have shaped New Mexico's history, economy and culture but remained largely unsung. When Co-creator Pat French proposed the initiative, she said, "Let's help women get their songs out. Women should not keep their songs in their hearts."
Nearly 100 markers now showcase our state's diverse history and women's overlooked contributions in every county in the state. The markers honor women of Puebloan cultures, the Navajo Nation and other tribal entities, Hispanic, Anglo and Black for their impact on arts, education, business, government, science, the military and healthcare. Through these historical markers, we educate, inspire and empower new generations of women who travel our roads.
Despite their rich influence on our history, women were largely invisible in the books and on monuments celebrating the state's history. Nowhere was this more evident than in New Mexico's Scenic Historic Markers project, initiated in 1935. When the Women's Marker Initiative was conceived in 1996, only one woman was mentioned on one of approximately 500 markers. World-renowned potter Maria Martinez was included on a marker featuring the Pueblo of San Ildefonso. This omission troubled Pat French, who had traveled the state with her young family when she moved to New Mexico from New York, stopping at roadside markers to learn more about their new home.
A weekend retreat at Forum member Linda Davis' ranch in Cimarron, N.M., in 1996 sparked an idea about how to address that disparity. During a walk along the remains of the Santa Fe Trail, French realized
"We need to talk about the women who created this state. We need to talk about their lives. Because you walk those ruts on her ranch and you realize there was a lot of pain, there was a lot of hard work that went into this state that was not just by men. At least more than half were women."
French shared the idea with Beverly Duran and Alexis Girard, who encouraged her to propose her idea to the full Forum. Although the idea was immediately embraced, it took nearly 10 years for it to be acted upon. An effort to implement the idea began in 2005, with French, Duran and Girard co-chairing a committee created to seek funding for the Initiative. With the help of legislators, Gov. Bill Richardson, local governments and many others, the New Mexico Legislature passed HTRC HB 622 in 2006, which appropriated $330,000 in capital outlay funds for the New Mexico Historic Women Marker Initiative.
IWF-NM won the bid to implement the initiative, partnering with the Department of Transportation, the Department of Cultural Affairs and other state agencies, as well as counties, municipalities, Pueblos, the Navajo Nation, numerous private and public organizations, historians, researchers and a diverse selection committee to identify historical and contemporary women who had made contributions to their communities.
The selection process encouraged nominations from the public and worked closely with counties to decide which women would be honored with markers. The response was overwhelming, with hundreds of letters from New Mexicans advocating for a mother or grandmother or an outstanding woman from their community. Between 2006 and 2010, 64 markers were installed, many with formal dedications involving the families and communities of those women. One past president described it as "…relearning our own history that just had not gotten the attention it deserved."
Although some markers are dedicated to famous women like Georgia O'Keeffe and Mabel Dodge Luhan, the initiative's real strength is that many of the women honored were remarkable leaders who had never been recognized.
"I would say that to a certain degree our group is helping shape the history of women in New Mexico, in the sense that we're honoring a tradition that had not been honored by our state officially. No sense of disrespect, it just was omission." Pat French, former IWF-NM President.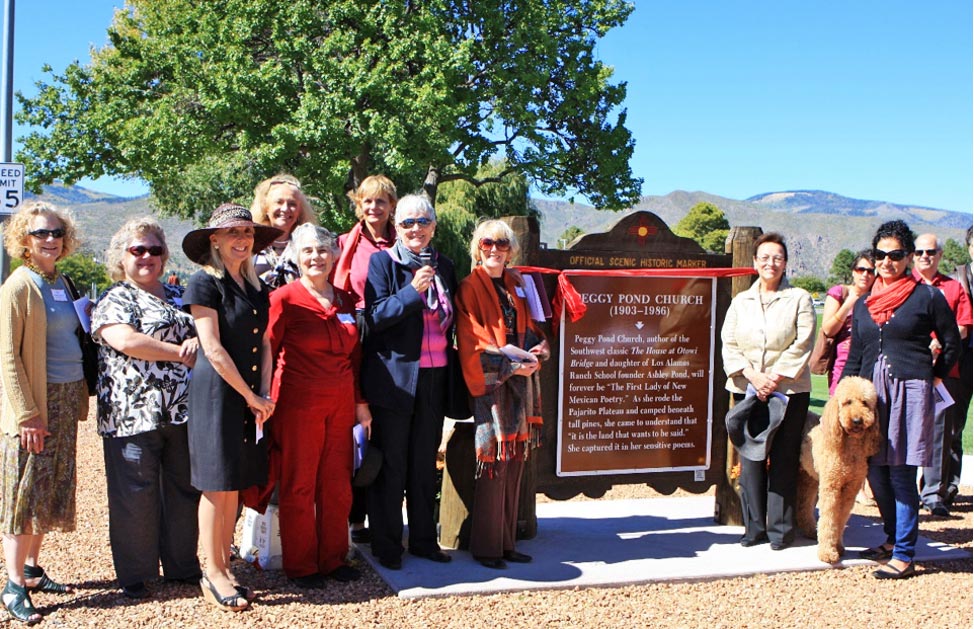 IWF-NM women gather in Los Alamos to honor two women: Marjorie Bell Chambers, founding member on the reverse side of marker, and Peggy Pond Church, poet and daughter of the founder of the Los Alamos Boys School. From left, Ellen Bradbury Reid, Karen Sahlerr of DOT, Pat G. French, Carol Robertson Lopez, Nancy Bartlit (as Los Alamos hostess}, Anne Hillerman, President Marilyn Mason, Rebecca R. Wurtzburger, Beverly Duran, and Alexis K. Girard.] Photo by Leslie Bucklin
The women honored include Sally Rook, a telephone operator in Union County who died in a flash flood in 1908. When she received the news that a deluge was rushing toward Folsom, she saved countless lives by staying at her switchboard, calling families to warn them until she was swept away. Telephone operators across the country contributed 4,334 dimes to honor their colleague with a memorial. When her marker was unveiled, community members shared stories of family members saved by her bravery.
Unearthing some of the "hidden histories" required detective work. When someone sent an article about Doctor Meta L. Christy, an osteopath who practiced in Las Vegas, N.M., the Las Vegas Citizens' Committee for Historical Preservation helped track down information through Ancestry.com, interviews with people in the neighborhood where she had practiced, the American Osteopathic Association and the Philadelphia College of Osteopathic Medicine. The research led to Christy being recognized as the first black osteopath by the American Osteopathic Association.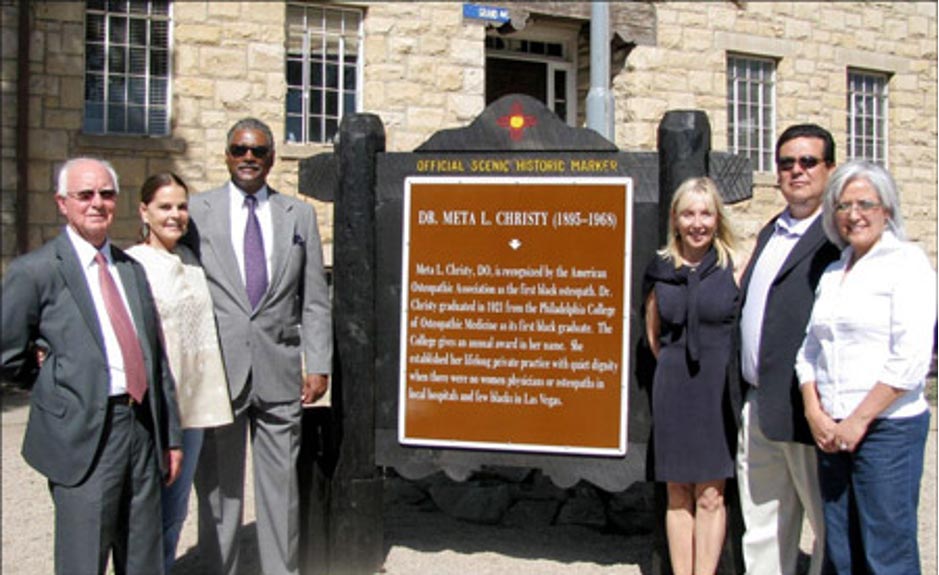 Las Vegas, NM Mayor Alfonso E. Ortiz Jr., Ali MacGraw, Gary Williams, Pat French of the Women's Forum Historic Marker Project, Tim Dodge, Diane Moore at the dedication of the marker for physician Meta Christy in Las Vegas, NM. The marker is at 727 Grand Av. In front of the City Municipal Building and the City of Las Vegas Museum and Rough Rider Collection. Courtesy/IWF-NM
The Initiative has helped New Mexican's discover outstanding women in their own backyards. Former IWF-NM President Celia Foy Castillo was excited to learn about Grant County resident Anita Scott Coleman, a member of the Harlem Renaissance who grew up in Silver City. Foy Castillo, herself a native of Silver City, had never heard of Scott Coleman before the Initiative. Now anyone who stops at the marker can read about this extraordinary woman. Past President Ruth Frazier had a similar reaction to learning about the women who shaped Bernalillo County, including the Founding Women of Albuquerque and Dona Elena Gallegos, a member of one of the early Spanish colonial families who fled the 1680 Pueblo Revolt and returned in 1693.
Many women whose names are long forgotten are also honored, such as the Sisters of Loretto, who established the first school for young women in New Mexico and helped raise funds to build the Chapel of Loretto.
"What mattered to me about remembering these women is all these were women that took a vow of poverty and came to New Mexico at a time when life was really hard and dedicated themselves to helping people, providing nursing, providing education. You'll see a lot of mention of priests and other leaders, but sometimes the sisters of some of these organizations are forgotten." Carol Robertson Lopez, former IWF-NM President
Contemporary women whose accomplishments have been ignored were also honored. A marker at the state capitol recognizes Inez Bushner Gill, who established the Legislative Finance Committee and helped create the Department of Finance and Administration and Maralyn Budke, the first woman director of the Legislative Finance Committee and chief of staff to two governors.
In 2011, House Memorial 29 and Senate Memorial 34 celebrated the completion of the Initiative and requested that the historic women honored on the 64 markers original markers be included in the state's Centennial Celebration. Since that time, IWF-NM has continued submitting nominees, funding the research and nomination preparation. NMDOT has provided funding for construction and placement of additional markers, bringing the total to nearly 100. Markers celebrating these unsung women are found in each of New Mexico's 33 counties and Puebloan and Tribal lands.
"It shows the rich tapestry that New Mexico has of women who have participated and continue participating in the soul and spirit of New Mexico." Celia Foy Castillo, former IWF-NM President
In 2014, IWF-NM began development of the https://www.nmhistoricwomen.org/ website, which provides more in depth histories of these great women. The website has already inspired one classroom project, in which 6th grade children interviewed and recorded their grandmothers. The hope is that the website will become a resource for teachers throughout the state.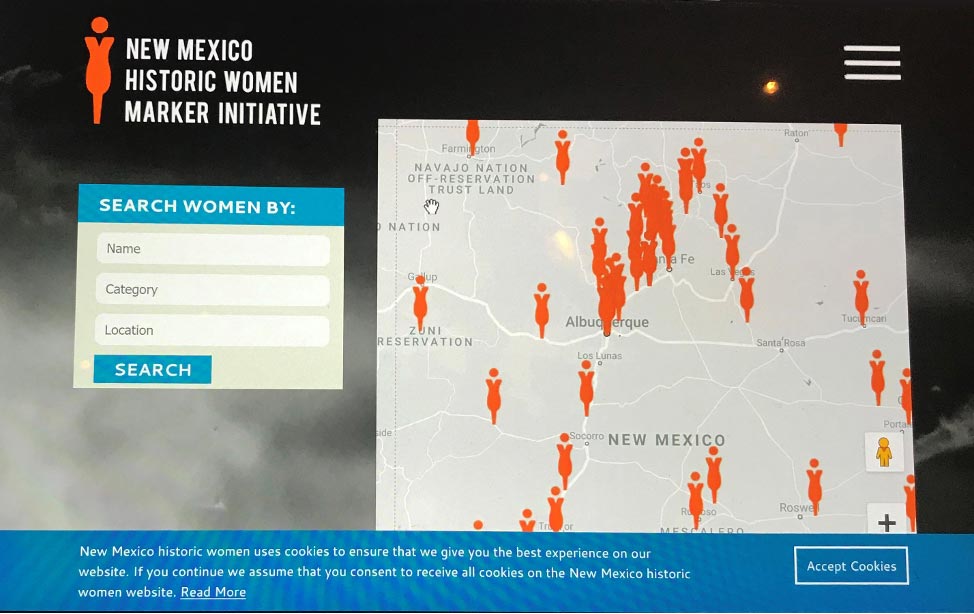 Many Forum members consider this Initiative one of IWF-NM's greatest contributions, keeping women's place in New Mexico history alive and educating both residents and visitors about their accomplishments. Celebrating women who helped shape the history of our state was groundbreaking not only in New Mexico but throughout the country. Ruth Frazier imagines young women rolling their eyes at having to stop at another roadside marker about men and instead finding inspiration in the lives of these women.
A chronology of the New Mexico Historic Women Marker Initiative and a list by county of the markers honoring these remarkable women can be found here (PDF).