NETWORKING AND PROGRAMMING
Women Mentoring Women
"That opportunity to come together as women, to learn from each other, to learn about our state, and just to enjoy incredible camaraderie in a beautiful setting really stands out." Diane Harrison Ogawa, former IWF-NM President
Networking is both a core component and major benefit of International Women's Forum – New Mexico. These networking and support activities are exclusive to members only, providing extraordinary learning experiences, opportunities for leadership development and the chance to interact with exceptional women leaders from across the state, the nation and the world.
COVID-19 Update

Like all organizations, we have had to adapt to the threat of the COVID-19 pandemic by going virtual with our networking. We look forward to the time when the activities featured here can resume. Watch this space for updates. In the meantime, members can access oral histories, join Zoom events and find announcements of upcoming virtual events on the members page.
The most intimate networking occurs at Dine Arounds, when members invite other IWF-NM members into their homes for dinner and discussion. Dine Arounds are popular throughout the International Women's Forum and are often offered during international events. New Mexico members have been gratified to learn more about their host country and meet leaders from around the world at Dine Arounds in Argentina, Singapore, South Africa and other countries and throughout the United States.
Weekly Mix and Mingles let members interact in a casual atmosphere. Larger events may feature a Forum member speaking about her life work. The expertise these women bring to their subjects sparks lively discussions among participants, with the added advantage that members can contact the speaker for more information.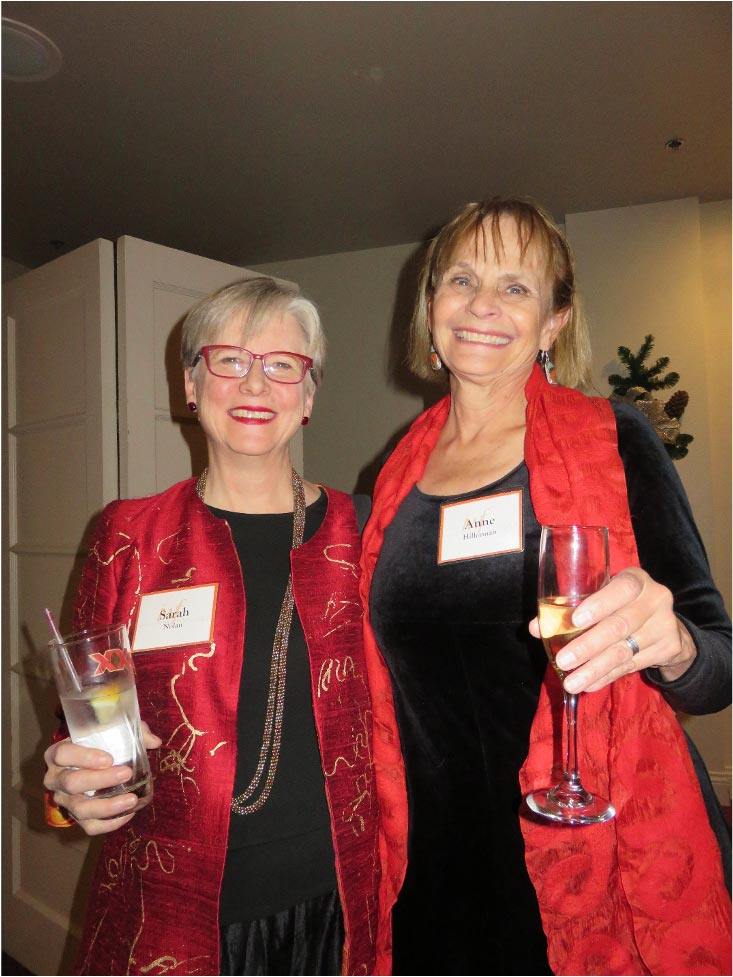 Two IWF-NM members: artist/designer of gorgeous clothing Sarah Nolan, left, enjoys a toast with Anne Hillerman, celebrated author and journalist. Photo by Nancy Bartlit
One key element of all these events is the way that women leaders mentor each other, whether through one-on-one conversations at the dinner or cocktail table or through a speaker's topic. One speaker, for example, gave a program on rebooting after major life changes such as retirement or job loss, starting new careers or the death of a spouse. A regional event in Oregon focused on breaking the glass ceiling.
Other events celebrate women who are often invisible to those outside their immediate sphere, such as a 2019 program that honored New Mexican women in law enforcement.
A highlight for many is when a member invites them into her world, providing unparalleled insights into their work, organizations and communities. Members have offered behind-the-scenes tours of their institutions and businesses or immersive experiences of their communities. Past opportunities have included tours of the University of New Mexico Comprehensive Cancer Center with Director and CEO Cheryl Willman, MD, and an insider's look at the Santa Fe Botanical Garden and that year's sculpture exhibit with former board President Letitia Chambers. Other notable excursions included the New Mexico Supreme Court, the New Mexico Court of Appeals and Christus St. Vincent Hospital.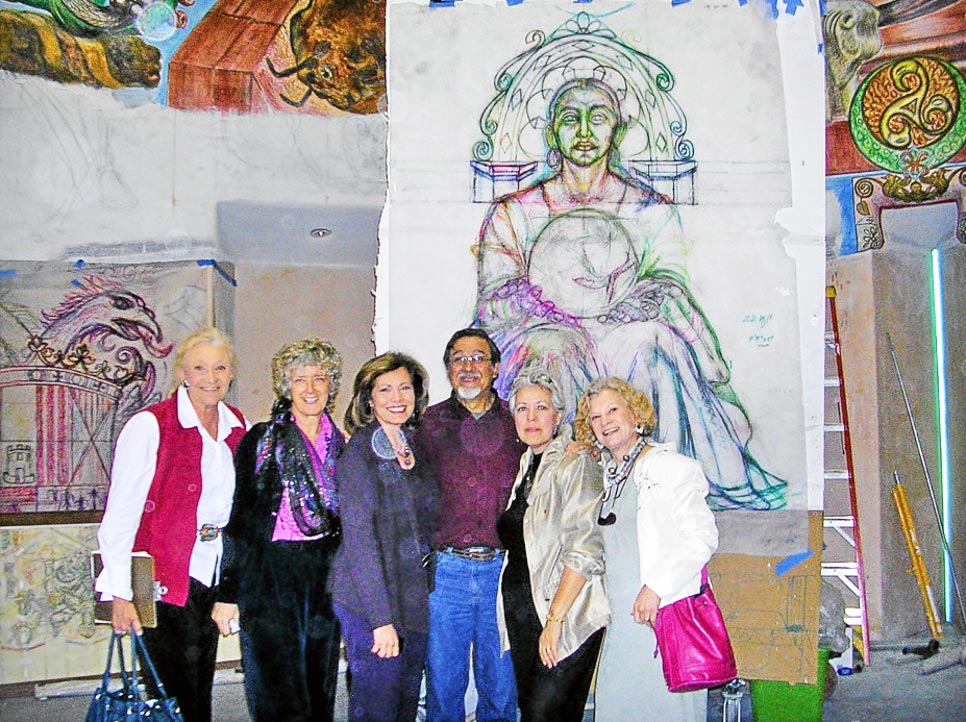 IWF-NM members affiliated with the National Hispanic Cultural Center invited members to meet the artist Frederico Vigil who was painting the interior walls of the impressive Torreon at the National Hispanic Cultural Center. From left, Carol Robertson Lopez, Betty A. Downes, Carla Aragon, artist Frederico Vigil, Maria Elena Alvarez and Ellen Bradbury Reid. Photo by Nancy Bartlit
Jacqueline Baca, President of Bueno Foods, arranged a trip to a chile farm, where participants learned about various types of chile and the challenges of growing and harvesting the crop. Linda Davis, a member of the Cowboy Hall of Fame, invited members to her working cattle ranch for a weekend and shared the history of women in the world of ranching and her own experiences of running the largest ranch in New Mexico with her husband.
Extended visits sometimes highlight a city or region of the state. A retreat in Silver City let members see the town through the eyes of locals and included tours of female-owned businesses, a private dinner at the home of the university president, a tour of the Magdalena Ridge Observatory and lectures on the area's history. One luncheon speaker shared her cutting-edge research on the human microbiome.
"One of the reasons I'm so grateful to be connected to this organization is, I have made deep and abiding friendships with women from Silver City and Las Cruces and Santa Fe that I would not normally, in the course of my work, get to know, and through them have been able to explore parts of the state and learn about things in New Mexico in ways that I would never have been able to do." Diane Harrison Ogawa, former IWF-NM President
Members can also participate in national and international events that feature preeminent women leaders from around the world. These events always include options for enriching experiences of local culture, which range from intimate Dine Arounds in members' homes to backstage tours of the Museo del Prado in Madrid, Spain.
"This is something that really is hard to achieve when you're just a tourist. It allows you to have the currency of a local yet the eyes of someone new." Diane Harrison Ogawa, former IWF-NM President
IWF-NM also responds quickly to current events. Soon after protests began following George Floyd's death at the hands of police, the Forum hosted a Zoom meeting on race in which women of color shared their personal stories. The conversation sparked follow up conversations among several members.