INTERNATIONAL WOMEN'S FORUM
Advancing Women's Leadership and Championing Equality Worldwide
"The opportunities on the national and international level are outstanding." Celia Foy Castillo, former IWF-NM President
The International Woman's Forum is committed to advancing women's leadership and championing equality worldwide. IWF answers high-achieving women leaders' need for a community of diverse thinkers. We are a community of trailblazers and thought leaders who shape and inspire the next generation. We equip them to transform the world.
IWF's story began when Elinor Guggenheimer – the first woman member of the New York City Planning Commission – went to a meeting in Philadelphia. When she arrived, she was told that the only women allowed in the building were waitresses and maids. Elly found a maid's uniform, put it on and took her rightful place at the table.
At that moment, she knew something more had to be done.
In 1974, Elly started what eventually became the International Women's Forum with three other incredible founders. It quickly spread to other cities across the country and eventually, around the world. At the time, women were just beginning to break into the highest levels of leadership. A woman ascended the Fortune 500 list as the first female CEO while another woman was about to scale Mount Everest.
Today, we are those CEOs and mountain climbers. We are Nobel Laureates, sports legends and Olympic gold medalists; entrepreneurs, business leaders and film stars; astronauts, prime ministers and presidents.
IWF answers high-achieving women leaders' need for a community of diverse thinkers and is shaping a future in which leadership has no gender and the next generation is inspired and equipped to transform the world.
After nearly 50 years, we continue to bring together the world's most exemplary and high-achieving women. We connect and promote more than 7,000 leaders across 32 countries around the world, including Africa, Asia, the Caribbean, Europe, Latin America, Russia, the Middle East and throughout North America. We are truly global.
This global network of innovative thinkers creates a powerful exchange built on trust, exchange and knowledge. IWF convenes diverse perspectives that inspire and increase imagination for what's possible, most notably at the annual World Leadership and Cornerstone conferences. These unique gatherings bring thought leaders together to examine critical issues of the day within a local context and through a women's lens. There is no other organization in the world that continually assembles such an extraordinary network of women to exchange ideas, learn, inspire and build better leadership for a changing world. IWF's leaders are stronger and more effective than they would be individually, benefiting from the experience of outstanding peers from other industries, countries and generations.
New Mexico members who have attended national and international conferences call them "outstanding." Not only do these events include premier speakers on cutting-edge topics, but location centered activities allow members to leave with a deeper understanding of that city, state or country.
"I like the meetings because they take you to such a different realm. They are on a much bigger scale. They talk about world problems, and it is really important to move to that level when you're in a small state." Pat French, former IWF-NM President
The opportunity to meet women from all over the world at these conferences has led to unforgettable moments, visits to each other's homes and even lifelong friendships for several New Mexico participants. Carol Robertson Lopez remembers being invited to share a glass of champagne during down time at an international meeting. When she asked what they were celebrating, one woman replied, "Five years ago I walked in space."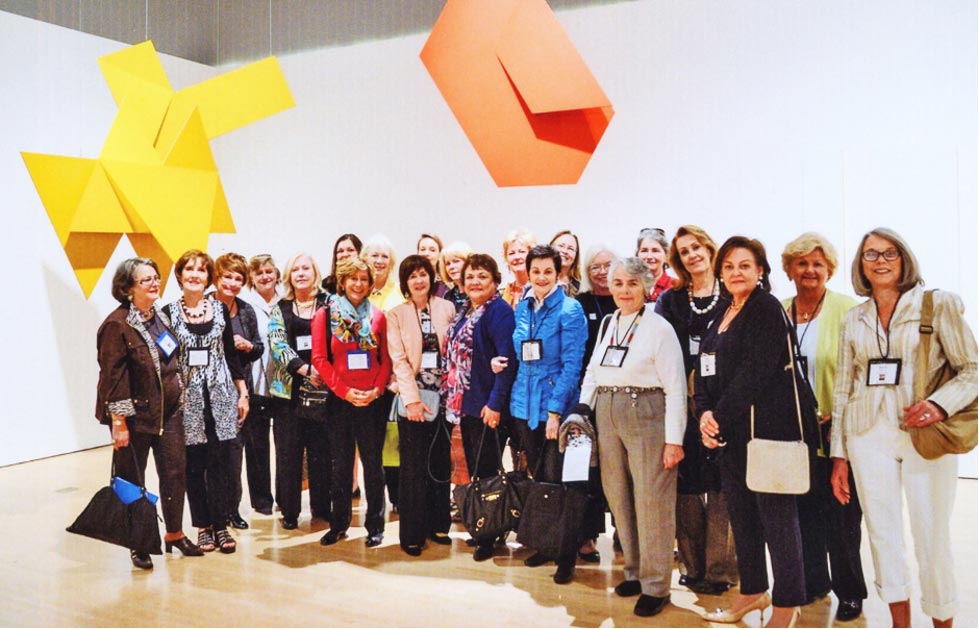 In 2013, IWF-New Mexico members joined IWF-Arizona hostesses at the Phoenix Art Museum. Courtesy/IWF-NM
The chance to deepen relationships with other IWF-NM members during these trips is also memorable.
"The opportunity to explore a different country with women whom you have grown to love and admire from your own state is incredibly special. And then it's enhanced by all of these women from around the world." Diane Harrison Ogawa, former IWF-NM President
IWF recognizes women with outstanding accomplishments through the International Hall of Fame, Women Who Make a Difference and the Leading Light Award. Twelve New Mexican members have been honored with the Women Who Make a Difference award. The honoring ceremony hosts 1,000 women and features international leaders.
"We are so proud of our women that can hold their own with all these international women." Carol Robertson Lopez, former IWF-NM President
Women Who Make a Difference recipients are:
Willa Shalit, Artist and Sculptor
Elaine Horwitch, Owner, Elaine Horwitch Galleries
Carol Rymer Davis, MD, Director of Nuclear Medicine, Lovelace Medical Center, Inc.
Mary Lou Cook, Creativity Specialist, Global Activist
Maralyn S. Budke, Entrepreneur
Margaret Moses Branch, Esq., Attorney
Mary Ann Shaening, PhD, Director and Owner, Shaening and Associates
Marjorie Bell Chambers, PhD, Professor of History and Political Science, Graduate College of Interdisciplinary Arts and Sciences; Union Institute & University, and Columnist, Albuquerque Tribune
Diane Denish, Lieutenant Governor, State of New Mexico
Linda Davis, Ranching Pioneer and Chairman of the Board of CS Ranch
Cheryl L. Willman, MD, Distinguished Professor, Pathology & Medicine, and Maurice & Marguerite Liberman Distinguished Chair in Cancer Research, University of New Mexico School of Medicine
International educational and leadership development experiences, including the Fellows Program and IWF Intensive program, build the knowledge, contacts and skills to address the world's greatest challenges. These programs strengthen women's capabilities for today and tomorrow. Through them, IWF invests in making women stronger, smarter and more influential. Our organization has elevated more than 500 international fellows – society's rising stars – to accelerate the potential of the next generation, and to lead the world tomorrow. Five mid-level management women have been nominated by New Mexico to participate in the IWF Leadership Foundation's Fellows Program.
IWF has also turned to digital content in response to COVID-19. Session topics have been framed to address global questions of concern in today's environment. Conversations range from the latest research on treatments and vaccines for the corona virus to how to find resilience during these challenging times and how to address issues of policing and racism.
The IWF network increases the impact of the individual members, multiplying positive change in the world. We connect...and cultivate...long-lasting friendships – supporting each other across time and space.