OUR HISTORY
Supporting Women's Leadership since 1989
"I think the Forum is a place to mentor leadership, a place where you could connect to other women leaders in different areas and learn. It was a place where you could feel nurtured and a sense of connection, where very often you wouldn't have it in your own world. I leaned on my forum friends in the early years for that type of support, and they were there." Pat French
The International Women's Forum – New Mexico was founded in 1989 to support women at the highest levels of their professions, through networking with peers from diverse backgrounds and careers and fostering opportunities for friendship, support and exchange of ideas.
Many of those early members were the first women to break the glass ceiling to hold positions of executive leadership. They were often left isolated by gender bias ranging from workplace structures to men's only venues where their male colleagues networked and socialized with other powerful men. The International Women's Forum and chapters like IWF-NM provided the framework for these women to mentor and support each other, where they could be vulnerable, present problems and seek solutions from others who knew what it meant to make the final decision.
Linda Cohen became the first president in the fall of 1988, shepherding the fledgling organization for its first two and a half years. Nineteen women have since served in that role.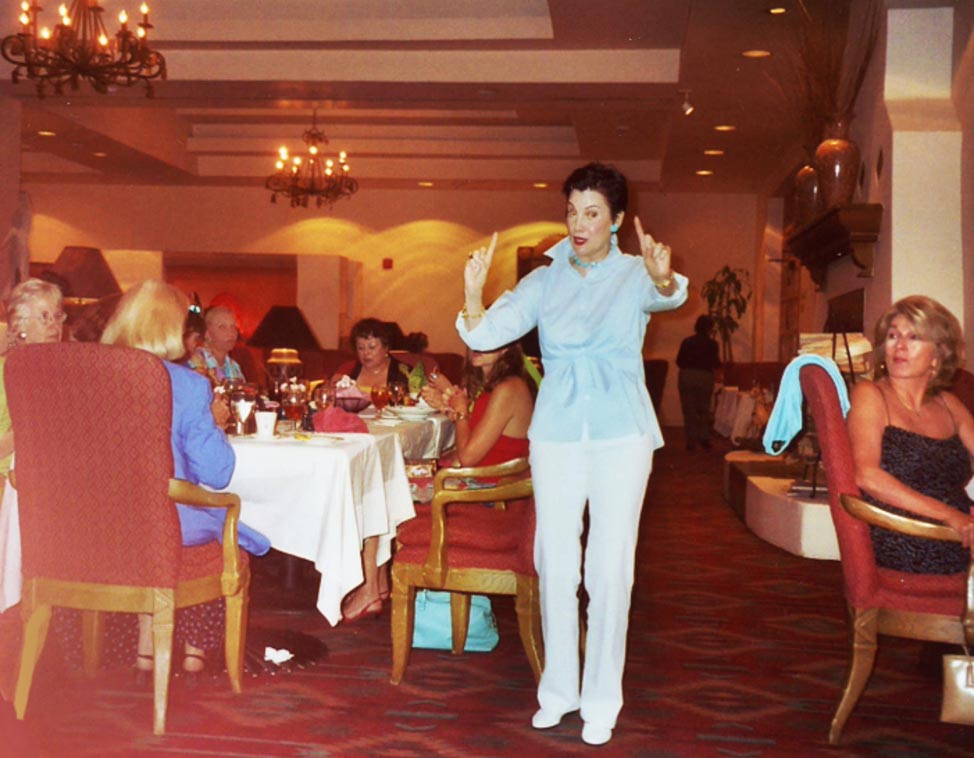 Founding member Linda Cohen makes a point during a meeting in Santa Fe. Photo by Nancy Bartlit
Founding members were committed to creating an organization that reflected the goals of the International Women's Forum but remained true to New Mexico's distinctive character. One mechanism they chose for achieving that was working to ensure that the organization's membership reflected New Mexico's diversity.
"We were concerned about maybe having too many lawyers, for example, and not enough people in education." Pat French, third president of IWF-NM.
IWF-NM developed a selection process that achieved that balance. In addition to the lawyers and educators, our membership includes artists and arts supporters, engineers, medical professionals, elected officials, judges, businesswomen and nonprofit leaders.
One of the organization's first milestones came in 1991 when IWF asked New Mexico to host a retreat. IWF-NM's membership (only a couple dozen women at that time) pulled together a retreat that hosted several hundred women from throughout the United States and as far away as Great Britain and Canada. Mary Lou Cook, who led the retreat, advocated for centering it around creativity. High-powered women participated in pottery-making and arts projects, experiencing the core of what makes New Mexico unique. Speakers included The Clan of the Cave Bear author Jean M. Auel and one of the first women to climb Mount Everest. World-renowned potter Maria Martinez from San Ildefonso Pueblo was honored during that event.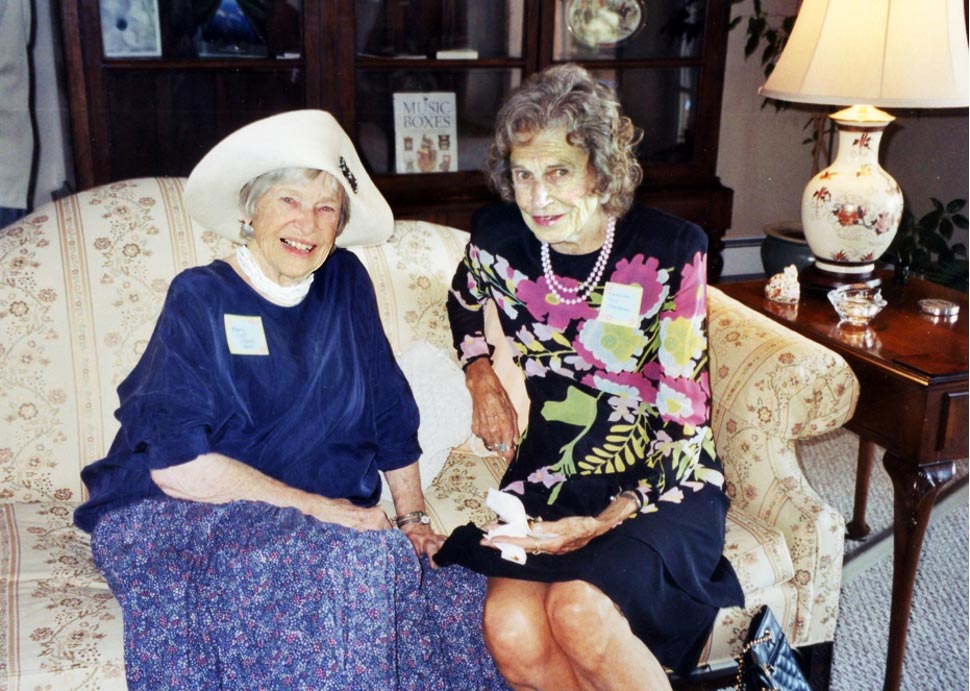 Mary Lou Cook, left, a Living Treasure of Santa Fe, and Marjorie Bell Chambers share ways members can learn more about one another whether in large or small groups. Photo by Nancy Bartlit
IWF-NM has hosted two more international events, one in 2004 and another in 2019. Both celebrated the art, beauty and culture of New Mexico. Nearly the entire membership was involved in organizing those events, which hosted from 100 to 200 women.
Throughout the years, IWF-NM has grown in size and diversity. Our organization is now approximately 100-women strong and has expanded its reach throughout the state. When Carol Robertson Lopez became president in 2014, most of IWF-NM's members were concentrated in Santa Fe and Albuquerque. Robertson Lopez decided to address the lack of representation in Southern New Mexico. She worked for a change in the bylaws that opened 10 slots for women from Southern New Mexico. The initiative was successful, leading to an increase in membership for that part of the state. According to Diane Harrison Ogawa, that has created more opportunities for members, "more people that you can engage with, and the people are so outstanding it's like a treasure trove."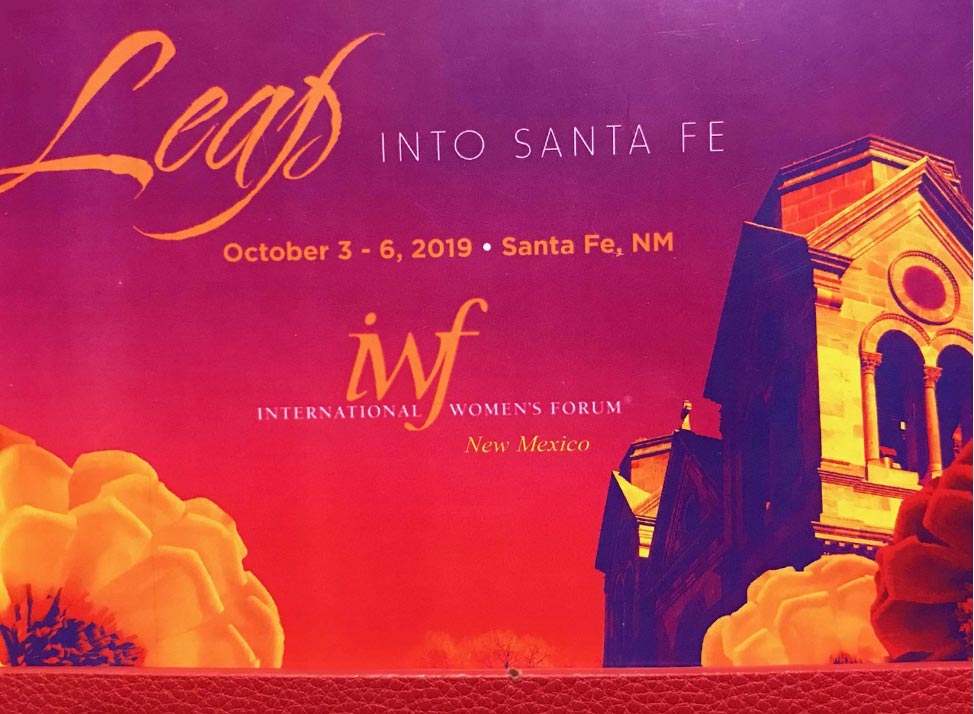 The Leadership, Empowerment and Advocacy Program (LEAP) was initiated in 2002 to honor nonprofit organizations with project funding. In 2018 LEAP transitioned from being primarily a grant-making program to one in which members use their skills, connections and resources to deeply invest in an organization and help build capacity, with a focus on creating pathways for young women to succeed.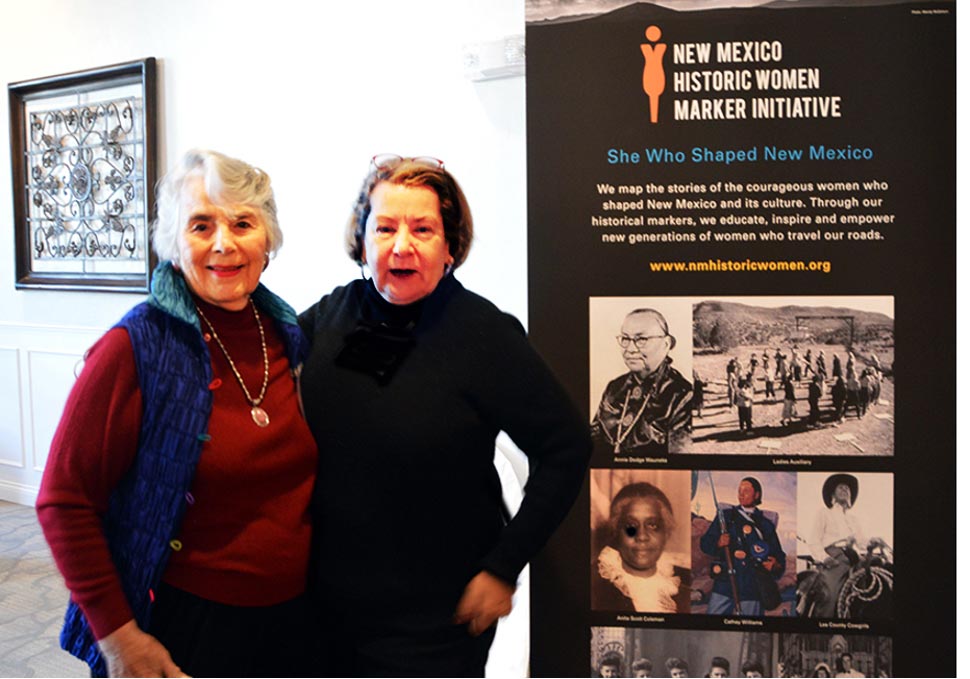 Nancy Bartlit, left, who served on the NM Historic Women Marker Initiative committee and Historian to IWF-NM, and former IWF-NM President Celia Foy Castillo, now a member of the Initiative, advertise the project to members at a quarterly meeting. Photo by Carol A. Clark
Another milestone was the creation of the New Mexico Historic Women Marker Initiative. The project was conceived in 1996, but it was nearly 10 years before a committee was formed to act upon it. The project was approved and funded by the legislature and then Gov. Bill Richardson in 2006. Now nearly 100 markers celebrate the courageous women who have shaped New Mexico's history, economy and culture, placed in each of New Mexico's 33 counties and Pueblo and Tribal lands.
IWF-NM recently celebrated its 30th anniversary, with many past presidents in attendance.
"Just to see this incredibly rich array of women who have all come together around the idea that we are stronger when we make connection with each other, that was a huge highlight for me. Nothing dramatic happened in that second or that moment, but the power of those connections, the way people have stood with each other for issues that they care about, and through life's noise and tragedies – that's powerful." Diane Harrison Ogawa